Body painting, a form of body art, may, in a sense, be described as an act of identification and initiation. To ancient people, and some indigenous people who live in tribes worldwide even today, body art represented (and, to some, it still represents) a ritual, which people perform in order to reach a certain level of consciousness. There are some rituals that stand for personal initiation, and some in which the individuality is lost, the collective identity is superior and a sense of fear and pain is postponed, so the ones who participate are fully dedicated to the group's interests. It is not just that the spiritual and the physical connect, but, also, the psyche and the body combine. On the other hand, some religious traditions oppose tribal beliefs and rituals. Tribal beliefs and rites explain that body art represents us as humans, and distinguishes us from the animals. To be more precise, through body painting, one expresses all the creativity and noetic (mental) ability only humans possess. Art, actually, makes us different. Various religious traditions consider body art a corruption of the human body which is "perfect".
Body painting is a temporary form of body art that can, off course, be performed on all parts of the human skin. "Body painting helps us regain contact with something inside us that is unfathomable, raw and untouched, something fundamentally and exclusively human that is waiting to be released and allowed to reveal itself."- Karl Groening.
For a long period of time, any way of decorating the body has been the way of expressing one's culture. Every culture has its own way of expressing that. Indigenous people rarely do it randomly and it is, maybe, not comprehensible when observed isolated, but it is related to religious, social or political concepts. That's why many symbols and themes painted on bodies can also be found in the same shape on objects like carvings, weapons, tools or pottery, for example, or anything else that is connected to the people of a certain culture, their philosophy and ideas. In large, it is a way of life.
Tribal body art
The aboriginal peoples of Australia have used ochres – pigment for many generations. They are derived from clay that is a little bit mixed with mineral oxides, and they use it to paint wood, rocks, the ground and their own bodies. To them, this isn't just about creativity, but it is a crucial activity related to religion, communication and law. Body painting, along with many other rites, stands for important changes in one's life. For example, the most important rite in a young boy's life is circumcision. It is an act of initiation, and a symbol of becoming a man, which, at some point, has an intense influence on his mental growth. The painted patterns are not just a random column or grouping of dots and lines, but a meaningful embodiment of tribe identity. They also represent their ancestors, who created the universe, while in Dreamtime, which is something mythical and far beyond what the living memory can reach. They correlate with their ancestors, and are then, by being creative and in touch with the entire universe. When a boy is ready for circumcision, he has his tribe's collective identity symbols painted on his face and body. This same action is repeated after his death in order for his soul to reach its own ancestral dimension. Women paint certain parts of their bodies to seduce men and stress their femininity.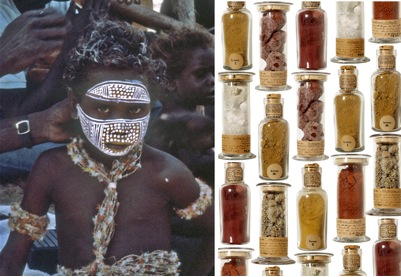 In Papua, New Guinea, self-decoration deals with ceremonies and festivals, where people celebrate their collective identity. The two families, whose children are by then arranged to get married, exchange gifts. For that occasion, the bride's face is painted to show off her beauty and ancestral advantages. Yellow, red and white are favorite and main colors for face painting in New Guinea. Now, synthetic colors are normally used, but, originally, a bamboo tube with a plant called fibre stopper, which contains a red pigment and has carvings on, was a much more common thing to use.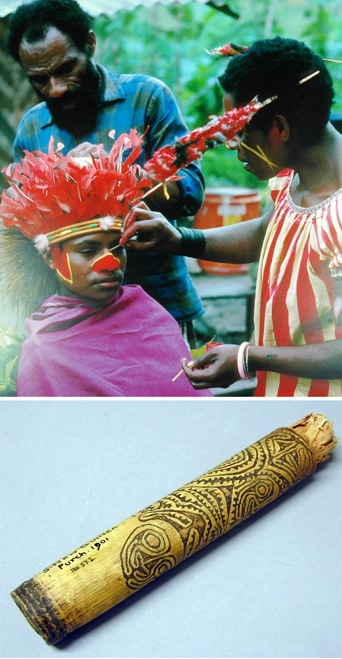 In Hindu tradition in India, the ones who have devoted their lives to religion, body painting and other rituals are extremely important. The forehead is regarded to be the purest part of the body. Hindu women and men wear their markings and symbols on their foreheads. A small red dot, worn by women on their foreheads, is called "bindi." It represents a social status of a married woman. It can be powdered on, but it can also be a piece of jewelry, or a sticker. A bride's skin can be lightened with rice water and rice powder. Today, both married and unmarried women can wear bindi as a simple decoration. Traditionally, bindi was a symbol of vitality and good fortune. Marks that men wear on their foreheads are known as "tilaka", which is an indicator of their religious belief. Red marks are made with sandalwood paste, white with chalk and yellow with turmeric, which is an Indian flower. Holy men use white earth form the banks of the Ganges river. On special occasions, like the Grand Pitcher Festival that is held near Allahabad, which is the place where the mythical rivers Saraswati, Ganges and Yamuna converge, people bathe in the River Ganges to purify their sins.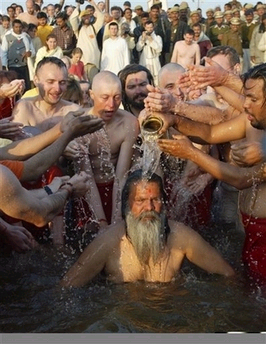 "Pueblo Indians redden their faces on all festive and full dress occasions, such as dances, when setting out on a journey or to undertake some important piece of work, when they want to express cheerfulness, energy, recovery from an illness and on winter mornings to keep out the cold". – Barbara Freire-Marreco has experienced this and this is a statement she had made. She was the first female anthropologist student to graduate from Oxford. The actual significance of colors and patterns the Tewa Native Americans apply, which Barbara examined, is something known only by Tewa alone. They believe that keeping it a secret makes it sacred and effective. They don't aloud anyone to take photographs or film their rites. But, Native Americans, in general, are known for their red body paint. The first settlers named them "Red Indians" because of the red ochre they painted their bodies with. The paint was some kind of a shield to protect them from vicious spirits and insects. Each tribe of Indians has its own way of body painting. Tree barks, clay, roots and berries are used to dye faces. When going to battles or hunting they would also paint their faces and bodies.
The Kaiapo culture is very characteristic, rich and complex. Their body painting is very colorful and highly decorative. They believe their ancestors learned how to live from social insects, such as bees. That is why mothers and children paint each other's bodies to look like animals or insects. Their traditional ceremonies may last for months, to mark the beginning and the end of seasons. They are very much related to the environment and nature.
Conclusion
In conclusion, I have to mention that all this information was appealing to me and that's why I've chosen to share it. There are many tribes about which there's very little information and are impossible to reach. That is a really discouraging fact. But, the facts that are widely known are extremely helpful. They let us create the approximately right opinion and point of view about the origin of body painting. The same things that made all these people paint their bodies, makes us "paint" our bodies by, for example, doing tattoos and other forms of body art. Off course, not exactly the same reasons but close enough to eve the similarity. Get familiar with your origins, and you'll learn much about yourself!
Show Comments