It is a very logical thing that these kinds of photographers exist and that they are specialized in documenting street art and the very performance of it. The urban art movement and its fruits are extremely temporary, and without photographing them, they would end up passing into oblivion. However, that's not the only problem. In most cases, the adrenalin and the stress urban artists experience is evoked by the illegality of their acts. So, the photographers are there to convey it all and give their moral support. Many of them are amateurs or semi-professionals, but there are also some who are highly skilled, and as the number of street artists grows, their number grows, too. Almost all of the photographers I'll concentrate on create amazing images about many different topics, and among them the images of urban art, graffiti and other street art forms.
RuediOne was born in Germany and was a graffiti artist himself. He first started documenting his own work which led him to photography. Now, he uses the camera for his and other people's work. He's been doing that for almost 10 years, and I can say he really knows how to show the emotional side of graffiti action. His photos are about all the adrenalin, tension and stress graffiti artists experience. To be more precise, he allows us to see a world that is restricted just to a small group of people of a very small scene. He travels to NY City, Sao Paolo, Hamburg and other cities that have an active graffiti scene and he captures and gives us an insight into the underground scene. He tends to show emotions rather than persons and places. Here you can see some of his work:
MJay was born in Rotterdam, Netherlands. Rotterdam is a city with the biggest port in Europe and its architecture is very modern and impressive. Therefore, it is a big attraction for many photographers. Maybe that's why MJay found his way in photography. He first started at the design school and did some work at a design company. Afterwards, he started doing photography and decided on studying it on the art academy. He's now a specialist in documentary and street art photography. This is how he feels about his work and life in general: "Enjoying the city life, travel as much as possible, meet new people and try to find the places where the normal inhabitants of a city never come and show these as rough as they are. As a photographer I want to give people the same feeling as I have, when I am in places like this".
JR is an owner of one of the biggest galleries in the world. He exhibits in the streets freely, and attracts the attention of people who are not typical visitors of museums, but people who look for freedom, identity, limits and commitment. That's exactly what he has to offer. His work is a mixture of art and act. He tracks people who communicate by writing messages on the walls in the streets. Once, he did a tour of European street art. After that, he started working on the vertical limits, which means he watched people from forbidden areas such as undergrounds and roofs of Paris. He does a lot of projects. He did a project called Portrait of a generation, or, more generally, portraits of "thugs" that he posted in the bourgeois districts of Paris. Another one, Face 2 face, was the biggest illegal exhibition in the world. He made huge portraits of Palestinians and Israelis face to face in 8 Palestinian and Israelis cities. JR did it on the both sides of Security fence (Separation wall), too. Some experts said that it would be impossible to achieve, but he did achieve it! He is also a protector of women which he managed to show in his film Women are Heroes. JR supports cities that suffered from big changes in his project titled Wrinkles of the city (Cartagena in Spain, Los Angeles or Shanghai). He received the Ted prize that gave him the opportunity to make a wish "to change the world" come true. Then, he decided to create "InsideOut"which is an art project that allows people from all over the world to get their photo and paste it in order to support the project, an idea, an action and share their personal experience. JR remains anonymous: "The fact that I stay anonymous means I can exhibit wherever I want, no one knows my name, so it's easy for me to travel." He is definitely my personal favorite:
Alex Fakso is an Italian street artist, and a street art photographer. At the age of 13, he started skateboarding and doing graffiti, and by the age of 16 he has already started photographing. To become even better, he registers as a student of the Arts Institute in Padova and learned graphic design and photography. After his studies, he began to stay focused on capturing every single moment, while writing in action, so that he could portray the adrenalin, the fear, the tension and everything that occurred in front of him. He tends to use the technique called fish-eye. He often changes his location, and tries to always be where writers and other street artists operate. Some of his work you may like:
As the last one in our journey, I've chosen Martha Cooper. She's a daughter of a camera store owner, and her love for photography developed when her father gave her the camera and led her through the streets in search of new exciting experiences: "Yeah, my father used to take me out and we would take pictures. That's what I thought photography was… we were just looking for pictures." She is mainly a street art and graffiti photographer and this is why she picked that precise theme to capture: "Frankly, what attracted me to graffiti in the first place was that it was an illegal art. There is a big difference in painting a wall legally and illegally. With a legal wall, artists can take their time, so the thrill of possibly getting caught is gone. However, at street art festivals, there is a greater sense of camaraderie. Artists can take the time to meet and speak with each other. Most of the painting takes place during the day instead of at night and that is much easier to photograph." To people who dare to take it as crime and vandalism, Martha has a good answer to offer: "I tell people to check out all the enormous ugly, mass-produced ads covering whole sides of buildings and ask why they aren't more concerned about those. Graffiti can be art and vandalism at the same time. I'm not a fan of every tag on every surface but I do appreciate illegal work in unusual spots. At least with graffiti and street art you know that a person was painting by hand, and I will always take anything handmade over mass-produced." She's been active in doing her "job" for almost 40 years, so I think she's right about everything she said. Take a glance at some of her work: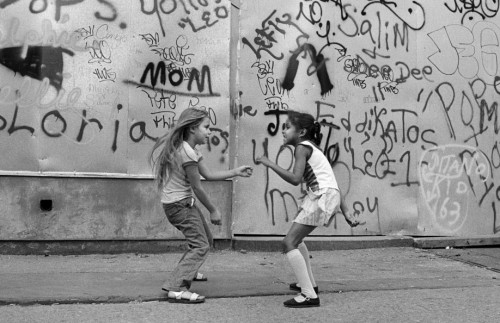 Conclusion
This "new" generation of photographers gives us an insight into the rebellious youth and their acts. The fact that their actions are illegal is pretty tempting, and that's what attracts these photographers to document it all. On the other hand, some of them are firstly street artists that eventually found their way in street art photography. This type of photography should become an official type because it has its specific characteristics that other types don't. Maybe, if it becomes official, it won't be what it is today.
Show Comments